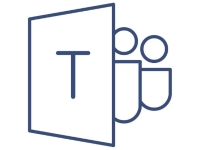 Microsoft Teams Quick Hits #4
---
Microsoft Teams
How do you set up meetings with outside or guest users with Microsoft Teams?
Most people use Microsoft Teams by adding meetings right from Outlook or from the client itself.

So basically anyone that has an email address can attend these meetings, which is very useful for users not in your organization.
Three ways that external or people inside your organization can attend these meetings is by:
Web Meeting: anyone that has an email address and an internet connection can access the call, by clicking on the link from the email that has a meeting invite and pressing join.
Guest User already set up in the tenant: if a user was added as a guest in teams and has the ability to access Teams application on the device the user has and they would join the meeting by selecting "Open Microsoft Teams"
Anyone with a phone: you can call in by using the conference options so anyone can join Microsoft Teams from any device. You will need Audio Conferencing which comes with Office 365 Enterprise E5 subscription or is an available pay-per-minute basis as an add-on to Office 365.
Quick and easy and depending on whether the user already has the free version of Microsoft Teams or uses the web version. Also, there is a mobile app as well.