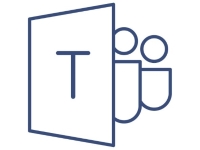 Microsoft Teams 101
---
Microsoft Teams quick start
Microsoft Teams is cloud-based collaboration software that is included with Office 365 licensing.
They also offer a free version of the software that you can use as well.
Some of the capabilities in Microsoft Teams include:
Meetings – Host 1 on 1 or 1000's in audio, video web conferences.
Calling – Within the possibility to call co-workers and other Teams users. Additional licenses allow you to have a Phone System for business calling on an enterprise level.
Devices -  PC, Mac, and mobile devices such as phones and tablets.
App Integration – Teams allow Microsoft and Third-party services to have cooperated into Teams. Develop your own or choose from the 100's apps already available.
Firstline Workers – Shifts an app in Teams allows for scheduling and shift management all via a computer or mobile device.
File-Sharing - Collaborate on files with built-in Office 365 apps like Word, Excel, PowerPoint, and SharePoint.
Microsoft Teams is not for just enterprise-level companies as businesses of all shapes and sizes use Teams. Microsoft announced recently that over 500,000 organizations are using Teams.
So let's start with some basics to get started now that we know some of the capabilities.
Let's get at least 5 people and put a team together in Teams. 
We will use the chatting abilities in Teams to communicate instead of sending each other emails.
Share a few files like we would if we were emailing and see what it looks like.
Ready?  Let's sign into Teams
Start Teams via your computer or mobile device[ make sure you have downloaded Teams here for Windows, Mac, or use the App Store for mobile devices. https://teams.microsoft.com/downloads
After downloading:
In Windows, click Start  > Microsoft Corporation > Microsoft Teams.  On Mac, go to the Applications folder and click Microsoft Teams. On mobile, tap the Teams icon.
Sign in with your Office 365 username and password. 
Now start a Chat since we will have no channels or teams to begin with.
On the left Navigation select Chat

Start a new Chat by typing in the person's name or email address

Once the person appears you will be able to start typing in the message window below. This will always be at the bottom of the window while chatting.

Notice below the message window you have a set of icons. This is where we will attach a file to our chat.

Now you select the paperclip icon and have a choice of using your computer or OneDrive to retrieve a file.
Type a message with the file and then select send.

That's if you started a chat, sent a file, and replaced the need to email this in about 3 minutes……
We have had clients tell us just be doing what we did above their emails have been reduced by 40%.
Real-time conversations and collaboration.
Of course, there is a lot more to Microsoft Teams and we just scratched the surface with chatting a file-sharing.
We are more than happy to help you and your organization with any questions you might have.
Feel free to contact us anytime.