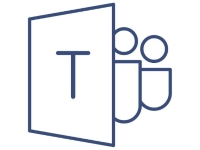 Why You Should Use Microsoft Teams Over Other Chat Tools
---
The way the world works has changed forever.
For businesses to collaborate and work effectively, they need to make communication as easy and enjoyable as possible.
Chat and collaboration platforms have steadily become more popular over the last few years as more people work remotely.
But with many options to choose from, how do you know which is best?
In this post, we'll break down the best features of Microsoft's all-in-one chat platform, Microsoft Teams, pitching it against its competitors.
The other platforms we'll compare it to include:
Zoom

Workplace from Facebook

Skype

Slack

Google Workspace
Let's get started.
Integrates seamlessly with Microsoft 365
One of the biggest advantages of using Microsoft Teams is that Microsoft 365 integrates perfectly with it. If your business can't live without Microsoft's suite of apps like Word and Excel, Teams allows your teammates to collaborate on documents in real-time.
Google Workspace does offer app suite integration, but that's only helpful if you rely on Google products exclusively.
Other platforms require third-party integration, like Zoom or Slack, which can often feel clunky. Or they miss it out altogether - like Skype and Workplace.
Everything in one platform
Everyone who uses multiple platforms to get things done knows it can be a pain to juggle. It's less productive and wastes time, leading to more mistakes.
Microsoft Teams truly combines everything a team needs to communicate seamlessly. Collab together, chat directly or in groups, then switch to a video or voice call with a couple of clicks. Manage meetings and store up to 1TB of files.
Other platforms simply don't have as many features all in one place. Zoom allows you to share your screen but doesn't enable full collaboration. It's missing a chat room feature too - unless you're in a video meeting. The workplace is promising but doesn't have a built-in telephony function.
Broadcast to 10,000 viewers
For businesses wanting to share an event or large-scale webinar, Microsoft Teams wins hands down as the best platform to host it.
You can broadcast your video to up to 10,000 viewers. That far surpasses any other similar platform. Other video conferencing services like Zoom do allow up to 1,000 video participants, but that's quite limiting for larger events.
Manage meetings effortlessly
Having control of your video participants during a meeting is key. Microsoft Teams gives you a handy toolbar of controls to manage the flow of your conversations. Mute, kick, and invite participants. Create a lobby to allow people to wait to join, and use the 'raise hand' feature to moderate the flow of questions.
Invite anyone with an email address
Sometimes, guests to your voice or video chats don't want the hassle of creating an extra account. With Microsoft Teams, you have the power to invite anyone with an email address. The kicker? They don't have to register an account to join. They can simply use the unique invitation to participate, avoiding the tech troubles that can sometimes come from signup issues.
Every other solution we've listed requires the user to create an account before accessing your meeting - unless they call in via the telephone. That's hardly ideal, factoring in call costs and quality.
Conclusion
Microsoft Teams far outweighs its competitors in terms of features and quality of services. With this all-in-one platform, users can:
Chat in groups or directly with their colleagues

Jump straight into voice or video calls

Host videos with up to 10k viewers

Store up to 1TB of files

Collaborate in real-time on Microsoft documents in the Microsoft 365 suite

Manage meetings with ease
The platform is a no-brainer for businesses who work remotely and want the very best communication for their team.