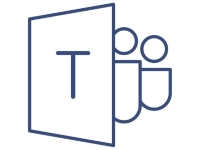 Top 10 Most Used Microsoft Teams Features
---
Are you new to Microsoft Teams? Have you recently updated to Microsoft 365 and want to use the platform to improve collaboration and productivity? Microsoft Teams is used by more than 145 million daily active users, yet many are unaware of the endless features available.
Here are the top 10 most used Microsoft Teams features.
1. Full integration with Office 365
Because Teams is a Microsoft product, it integrates with the dozens of Office 365 apps that your business uses on a daily basis. Word, OneNote, SharePoint, and Outlook are all fully integrated into Teams. This allows for seamless collaboration, document sharing, and more.
2. Tabs
Tabs in Microsoft Teams provide the ability to display rich text and interactive web content with your team. Static tabs are used by individuals for taking personal notes. Configurable tabs are part of your Teams channel and are best used to provide ongoing information to your workforce.
3. Filtering content with @mentions
Real-time chat has its perks, but it can also impact focus and productivity. With @mentions, you're able to filter the content that you want to see. This way you see the most up-to-date information that you care most about.
4. Customizable based on your industry
Businesses run in unique ways, which makes it important to use a collaboration platform that supports all industries and niches. Microsoft Teams can be customized to meet your business's specific needs by using developer templates.
    Templates are available for:
    Education groups
    Government agencies
    Retail companies
    Healthcare industry (to include HIPAA compliance)
    Shift workers
Use one of the quick start guides to find a template that best meets your business's needs.
5. Immersive Reader
Immersive Reader not only benefits educational institutions but others as well. The reader reads and then speaks the text on a channel aloud. This can be helpful if you're struggling to read a document or if you need to take in information while focusing your eyes elsewhere.
6. Private channels
Open collaboration is nice, but sometimes you may require a private area to discuss more sensitive or confidential information. Private channels make it easier to control how data is shared and who it is shared with. Private channels in Teams make it much easier to meet ever-changing privacy and compliance rules.
7. Recording capability
Want to be able to reference video, audio, or screen-sharing activities in the future? Teams supporting meeting recording which can be saved to the Stream. Content is recorded and can be downloaded later.
8. PSTN integration
Microsoft Teams supports public switched telephone network (PSTN) calling. You can use this feature with a Microsoft Calling Plan or direct routing. Telephony support via Teams means less hardware purchases and the ability to use the same platform for all collaboration and communication needs.
9. Content bookmarking
Make sure you can always find information quickly by using bookmarks. Teams allow you to bookmark specific content, including messages and attachments. The ability to flag information as being important means that you spend less time searching for the data you need to reference.
10. Teams Connect
Back in March 2021, Microsoft announced shared channels, which work very similar to Slack Connect. Using Teams Connect, you can share channels with users who are internal and external to your organization. The feature will be released to all users in November.
---
Final thoughts
These features only scratch the surface of what Microsoft Teams has to offer. Want to learn more about Microsoft 365?
Interested in upgrading? We're here to help.
JPSC offers a team of Microsoft 365 consultants that are experts in Microsoft Teams, SharePoint Online, Project, Power Automate, and more.
Contact us today and let's discuss how Microsoft 365 can meet your needs.