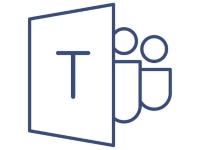 Microsoft Teams Quick Hits #3
---
Microsoft Teams
How do we work on a document or say a diagram from Visio with the group or team?
Microsoft Teams allows you to upload a document into a Teams channel and collaborate on the document in real-time. Shown below is a Visio file uploaded to a channel and a conversation talking about the diagram.

It is a great way to collaborate in real-time and not have to email a file back and forth.
The same is true for Word, Excel, PowerPoint files as well.  As each person opens the file from Teams they will be represented in the program (Visio, Word, Excel...) and you will be able to see the changes as they happen. Microsoft Teams allows you to communicate via Audio or via the conversation of the channel for this as well.
Here is a video that talks about the content of this article.