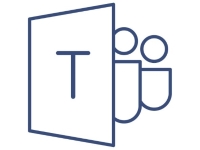 Microsoft Teams Quick Hits #2
---
Too many Tenants
Ever have a situation where you need to be logged into more than one Microsoft 365 tenant at the same time?  Microsoft doesn't make it easy to connect to more than one at a time.  Consultants working on multiple tenants experience this issue often. 
The workaround is to use Chrome with multiple user accounts.  This allows you to log in to each tenant with more than one profile using specific credentials with each profile.
Open the Chrome browser, click on the account icon in the top right corner of the browser.  Click on Manage people.



 
Select your account


 
Navigate to https://portal.office.com and login with one of your accounts.
Now you can use your Teams client for one tenant and use the web version of Teams in Chrome (web version) under different accounts. Keep in mind -- using the web browser version lacks some features. One feature that isn't available is desktop sharing.  If that's not a deal-breaker then this should work for you.