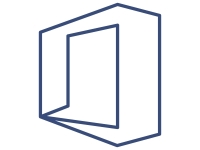 Microsoft 365 Security and Compliance Offerings
---
Microsoft 365 Security and Compliance
Let us take a look at some of the headliners for Security & Compliance services that are bundled with the Microsoft 365 cloud platform.
Identity and Threat Protection
This is used to manage and monitor user accounts against credentials with unauthorized use. Uses machine learning to identify strange or suspicious behavior know to be used by cybers threats. With Advanced Threat Protection or ATP, you extend this monitoring to desktops, email and servers as well.
Information Protection and Compliance
With Information Protection and Compliance, this is more oriented towards controlling the use of data with policy. Enforcing file encryption while blocking sensitive data from exiting the IT boundaries. This also includes tools for risk assessment and compliance scoring.
Azure Information Protection
This will help to classify and protect documents and emails by applying labels. These labels can be defined and used with rules and conditions either automatically or manually.
Licencing can be tricky to follow as Microsoft does make changes.
Here is a Microsoft O365 chart to help with what's included outside of E5 for Security and Compliance features:
Let us know if you have questions.........
| | | | |
| --- | --- | --- | --- |
|   | Microsoft E5 | Microsoft E3 | Microsoft F1 |
| Identity & Access Management |   |   |   |
| Windows Hello, Credential Guard, and Direct Access11 | Y | Y | Y |
| Azure Active Directory Premium 1 | Y | Y | Y |
| Azure Active Directory Premium 2 | Y |   |   |
| Threat Protection |   |   |   |
| Microsoft Advanced Threat Analytics | Y | Y | Y |
| Windows Defender Antivirus and Device Guard11 | Y | Y | Y |
| Windows Defender Advanced Threat Protection | Y |   |   |
| Office 365 Advanced Threat Protection P1 & P2 | Y |   |   |
| Azure Advanced Threat Protection | Y |   |   |
| Information Protection |   |   |   |
| Office 365 Data Loss Prevention | Y | Y |   |
| Windows Information Protection and BitLocker | Y | Y | Y |
| Azure Information Protection P1 | Y | Y | Y |
| Azure Information Protection P2 | Y |   |   |
| Microsoft Cloud App Security | Y |   |   |
| Security Management |   |   |   |
| Microsoft Secure Score | Y | Y | Y |
| Microsoft Security and Compliance Center | Y | Y | Y |
| Advanced Compliance |   |   |   |
| Advanced eDiscovery, Customer Lockbox, Advanced-Data Governance, Service Encryption with Customer Key, Office 365 Privileged Access Management | Y |   |   |
| Advanced Analytics |   |   |   |
| MyAnalytics | Y | Y | Y |
| Power BI Pro | Y |   |   |