How Do I Add Multiple Users to Office 365
---
Bulk User Add
Want to add more than one user at a time to Microsoft 365? 
Microsoft supplies a built-in template to help add multi-users at one time. As long as the headers and content are filled in correctly it is an easy process.
So of the assumptions would be you have an Office 365 Tenant. 
You have Admin access to the Admin Portal.
And you have already purchased licensing or have available licenses for the users being added.
So remember each user needs a user account before they can sign in and access Microsoft 365 services, such as Project Online, Microsoft Planner, Outlook, Dynamics 365, Microsoft Automate, and so on. The bulk update or import allows you to save users, you can add their accounts all at once from an Excel spreadsheet or other file saved in CSV format.
Here is how it is done:
Sign in to Office 365 with your work or school account.
In the Office 365 admin center, choose Users > Active users.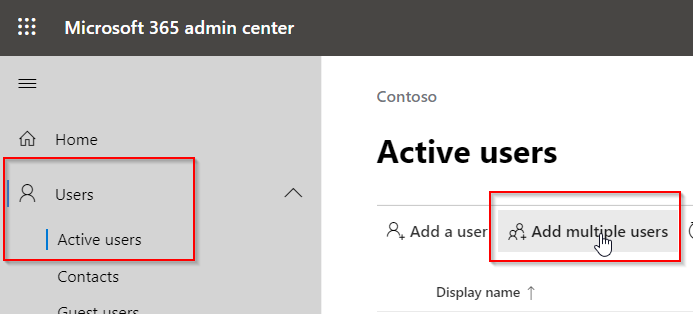 In the Admin center choose Users and then Active users
Now select Add multiple users from the menu.

You can download the sample template with or without examples.
After adding users to your spreadsheet and you have saved the csv file and upload it to Office 365.
Your spreadsheet needs to include the exact same column headings as the sample one (User Name, First Name, etc...). If you use the template, open it in a text editing tool, like Notepad, and consider leaving all the data in row 1 alone, and only entering data in rows 2 and below.

The spreadsheet also needs to include values for the user name (like joe@contoso.com) and a display name (like Joe Doe) for each user. If not an error will show. Simply reopen the spreadsheet and correct any errors. Then you can try verifying it again.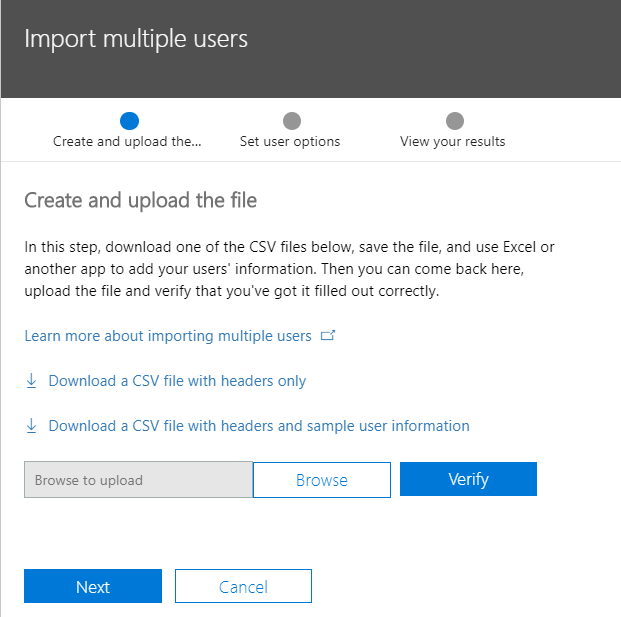 Click Verify to make sure there are no issues.

Click next after verification is good.
On the Set user options dialog, you can set the sign-in status and choose the product license that will be assigned to all users.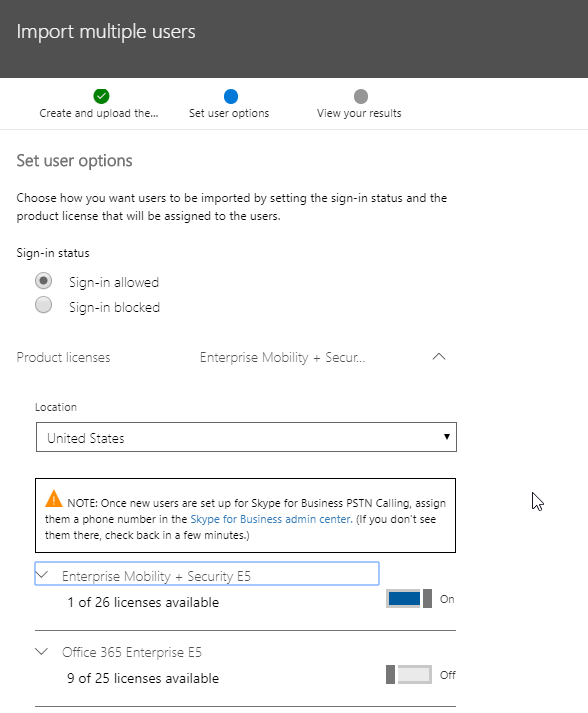 On the View your result dialog you can choose to send the results to either yourself or other users (passwords will be in plain text) and you can see how many users were created, and if you need to purchase more licenses to assign to some of the new users.

That's it you have added the user to Office 365 with the ability to sign in and the appropriate licenses. 
If you had any issues you can review the download csv file from the Download results link.
This will give you what if any errors occurred. Still having issues feel free to reach out and look at our https://jpsc2010.com/free-support-offer running this month.