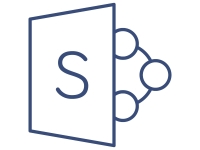 Top 10 Features of OneDrive
Cloud storage is the easiest way to share and access files from anywhere. With several companies offering cloud storage options, why choose Microsoft OneDrive above all others? 
The compatibility with Microsoft 365 and all its apps and services should be enough to convince you.
Here is what we feel are the top10 features of OneDrive:
1TB Storage
With every OneDrive for business subscription, you get a massive 1TB of file storage space, with an individual file size limit of 100GB. That's more than most businesses will ever need! 
From your settings, you can monitor your used and available storage at any time.
As Microsoft offers a few subscription plans, you can choose OneDrive storage as a standalone product, or unlock the Microsoft 365 apps and services for more functionality.
Advanced Security
All OneDrive plans offer data encryption as standard, so you can rest assured your data is safe when accessing it from any device. 
The higher-tier subscriptions offer some advanced features, including protecting sensitive data and backing up files from your PC. 
For businesses concerned about leaking sensitive information, use the included sensitivity labels feature. You can apply these to content you want to protect, so it's only viewable to those with permission. 
Access from Anywhere
Cloud-based storage means you can access your files from any device.
Simply sign in to your Microsoft account right in your browser to share, download, or upload files from your PC or tablet. 
If you're using a PC, you already have OneDrive installed as standard. Just log into your account! 
You can drag and drop files right in your file explorer and they will automatically sync with your online account.
Mobile App
The OneDrive mobile app for Android and iOS make creating and sharing files a breeze when you're on the go. 
Once you've installed the app, sign in to view your recent files, collaborate on documents with your colleagues in Microsoft 365, and share files with ease. 
Plus, opening files requires no bloatware - OneDrive views files in place. 
You can find the app in the App Store, Google Play, or request a download link from the Microsoft website.
Autosaving
Everyone's been a victim of losing files without saving them first. 
Avoid the panic with OneDrive - everything you're working on automatically saves to the cloud. As you work, even when you collaborate on a file, all changes save within a few seconds. 
If you lose connection or spill your coffee on your laptop, pick up right where you left off without losing your progress.
You have the option to disable autosave, too. Just toggle it on and off from the app or website. 
Two-stage File Deletion
Get rid of unwanted files and folders easily. Select individual files by clicking them and sending them to the recycle bin. You can even select multiple files at once using checkboxes displayed next to each file.
Accidentally deleted a file you need? No worries. 
Did you know that OneDrive has a two-step deletion process?
Anything you send to the trash is stored in the recycle bin, remaining there for 30 days. You can restore your files any time in those 30 days to save them from permanent deletion. 

Share Within Microsoft Teams
Collaborate with your teammates from inside Microsoft Teams. 
OneDrive syncs seamlessly with the platform to enable easy file sharing. 
All you need is a shareable link so your colleague can access files you share with them. 
Any files you add to Teams directly get automatically uploaded to your OneDrive. Simple!
Document Scanning
Using the mobile OneDrive app, did you know your smartphone can scan in paperwork and sync it to the cloud? 
Fantastic for storing receipts, treasured old photos, important documents, and more. 
You can sign contracts using the app, too - once you've scanned in your paperwork, select the pen, sign your name, and save. 
Personal Vault
Add another layer of security with the OneDrive personal vault. 
Make extra sure those sensitive files are kept secure by adding them to a special folder within your OneDrive account to password-protect its contents. 
To secure your private files, you can add a PIN, face scan, or fingerprint. That way, even if someone gains access to your account, your most sensitive information is kept safe. 
PC Folder Backup
Add the OneDrive PC app to your computer to automatically sync and back up your desktop, documents, and pictures folders. 
This feature is particularly helpful if you're used to saving files locally to your PC and forget to back them up.
You'll be able to access your files from any device.