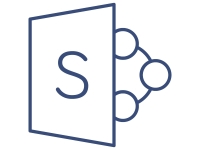 Per-Site Sharing Links
---
Microsoft released a New Feature for SharePoint administrators.
They will be gradually rolling this out to Targeted Release customers in late January 2020.
The rollout will be completed by the end of March.

Prior to this change, SharePoint Administrators could choose either "Anyone", "People in my organization", or "Specific People" when setting the default sharing link on a per-site basis.
Microsoft is adding "People with Existing Access" as a new default option. After an admin uses this default, tenant users who click on the Share button or Copy Link will receive an existing access link that does not change the permissions on the item. Additional link types are still available in Link Settings if needed, and this update does not change any existing default settings.
This feature is initially configurable via PowerShell but will be customizable in the modern SharePoint Admin Center in the future.