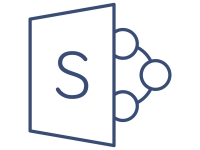 SharePoint Migration Tool Updates
---
How do we keep up with all the changes and advancements in SharePoint and Microsoft 365?
Well, it's not easy and some might say it's a full-time job with the Office 365 road map. So let's start with some items coming to SharePoint Migration Tool. Now, these are features that have been released or are releasing to tenants as we speak:
SharePoint Migration Tool – Have you worked with this tool to migrate content over to SharePoint Online? Microsoft has updated a few items in this tool.
The first is called the Managed Metadata Service support. Existing taxonomy in 2013, the SharePoint Migration Tool can now migrate your content types and term stores to Office 365. Make sure you have global tenant admin permissions.
Another item release is the On-Premises SharePoint Web part feature. You can now bring over web parts like media, blogs, list forms, and others.
Few other items added were Navigation and icons, Site Descriptions and Pages, including any pages in the site asset library
For a complete list of the SharePoint Web parts use this link: https://docs.microsoft.com/en-us/sharepointmigration/spmt-supported-webparts
Many more features coming to SharePoint Online this year so stay tuned.
Lets us know if you have any questions by Contacting Us.