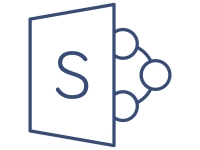 Sharepoint - Autodesk integration for DWG files
---
It's finally arrived! 
If you're a drafter, engineer, or architect and use AutoCAD or other AutoDesk products you know the struggles it is to use SharePoint to post drawings or another drawing format.  Typically, you had to convert the file to another format so SharePoint could display the drawings because no viewer was available to render a .dwg file.  Today, Microsoft announced the soon-to-be-released 'Autodesk integration for DWG files' tool that will allow drawing files to be viewed natively.
In addition to SharePoint, you'll be able to view AutoCAD documents in Microsoft Teams, and OneDrive without installing third-party apps to view them.
When does this feature roll out?
Microsoft hasn't announced an official release date but is committed to implementing it soon.  If you miss the date, don't worry.  The change doesn't require any effort from users or admins.  It will be deployed to SharePoint online with zero interaction from you.
We'll keep updating this article as new information comes out, so be sure to check back often!