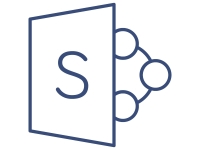 Migrating from On-Premise to SharePoint Online
---
This article provides a general guide to SharePoint Online migration. We outline the benefits of migrating. We also challenge our readers to answer critical questions such as the why, how, and what makes their migration successful.
These include the benefits of migrating or the requirements of migration.
Benefits of Migrating
The benefits of migrating from on-premises to SharePoint Online vary depending on the type of migration offering. Three such services exist, Do It Yourself, Microsoft FastTrack, and Partner-Driven.
Do It Yourself

The customer self-service migration gives you control over the process and its timing. This means that you determine when you want to move and the pace at which you will move. SharePoint Migration Tool is also free, and all you need to do to migrate is use your existing resources.
 

Microsoft and FastTrack Driven

Your Microsoft 365 subscription covers the FastTrack service. It provides the resources to improve your SharePoint experience. You will also access OneDrive onboarding guidance in the subscription's benefit offering. The guide includes how to migrate your content from other cloud environments to SharePoint Online. To set up this service, please contact us.
 

Partner Driven

Partner-driven migration is how JPSC can help. The benefit of this option is customization. Hence, you can do a business-specific migration that covers your organizational needs. Our professionals will guide you in each step of the migration process. They will also give your insight that best suits your business needs at the time of migration. Of course, the price we charge depends on the complexity of your migration.
Requirements: What Do You Need To Do To Migrate To SharePoint Online?
Migrating to SharePoint Online involves five stages: planning, assessing, preparing, migration, and user onboarding. The figure below visualizes these stages
 

Step 1: Migration Planning
SharePoint migrations require careful planning.  It is necessary to visualize the outcome of your organization's migration before starting the process. Some of the questions you need to answer in the planning phase include:
What is the architecture of the new SharePoint environment?
The main concern that arises from migration is the final file and folder permission level in SharePoint. The figure below outlines these permissions at both the Windows and SharePoint levels.
Permissions

| Windows file share permissions | SharePoint item access | SharePoint role |
| --- | --- | --- |
| Full Control | Full Control | Full Control |
| Modify | Modify | Contribute |
| Read and execute | Read and execute | Read |
| List folder contents | List folder contents | Read |
| Read | Read | Read |
| Write | Write | Contribute |
What is the mapping between your current and target environments?
Answer this question by considering how the migration will improve your user's collaborative experience. In other words, review your current site, share content and how you store them, then answer the following questions (the questions provide a way of evaluating your planning and identifying any gaps).
Is the file a private user file?

If this is true, save the file to OneDrive so that the user can either work privately on it or share it with a team.
 

Does a file belong to a team?

If this is the case, migrate the file to SharePoint.
You can access this file through OneDrive, enabling you to add team members to the file.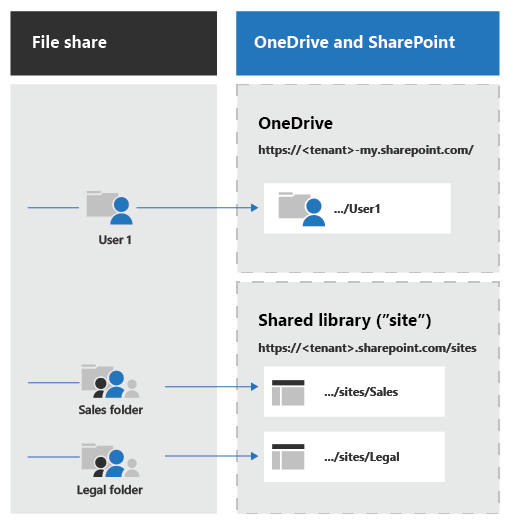 What is the amount of content that you want to migrate? Is this content current, relevant, or redundant?
It is essential that you know that using the SharePoint Migration Tool limits what you can migrate to the following items:
Documents and files under 15 GB
Structure. This includes user-level permissions and the organization of files and folders
>The site, document, and folder metadata
Similarly, the SharePoint Migration Tool restricts what you can migrate to exclude:
Windows hidden attributes
Explicit deny permissions
Embedded URLs and their conversion
Files and folders that do not adhere to current SharePoint restrictions and limitations
Have you communicated with your users about the migration process and the possible impact that it will have on them?
Step 2: Assess and Remediate
After answering all the questions in step 1, analyze your current environment to identify existing issues before migration. You can use the SharePoint Migration Tool, which can scan your data and provide an assessment report.
Step 3: Preparing Your OneDrive and SharePoint Environment
The key activity of this step is pre-provisioning your users in Microsoft 365. You can do this through a directory or organizational synchronization.
Directory synchronization syncs your Active Directory Domain Services to your Microsoft 365 subscription's Azure AD tenant. Overall, the service provides three benefits:

The reduction of administrative programs

The enabling of an optional single sign-on scenario

Automating Microsoft 365 changes

Alternatively, you can opt for the pre-provision alternative in which the service automatically creates a OneDrive the first time a user browses to their account. This option is suitable for organizations with a custom process for adding new employees or those who plan to migrate from an on-premises server to SharePoint Online.
Step 4: Migrate
Before you start this step, ensure that the current account has permissions on the target account. Next, carry out the following Microsoft guidelines on migration:
Sample users for whom you will implement a pilot migration
Perform a pilot migration using the sample above. In this case, migration is transparent to the users, and you move both the network and local files to SharePoint or OneDrive without the users' knowledge
Analyze this process, its performance, and user communication and feedback. Use the analysis results to improve anything that needs improving
Repeat the process using another sample of users. Perform this process incrementally until the migration is complete
Step 5: User Onboarding
The last step of the migration process is user onboarding, which requires you to prepare your users to transition from On-Premises to SharePoint Online. Include the following factors in your onboarding plan:
Elaborate on the benefits of migrating and why you are moving
Train your users on how to use OneDrive and its features
Train your helpdesk on FAQs and key SharePoint features
Plan for a possible downtime in the process
Communicate the migration timeline and how it will affect the users
Give the users a choice to accept or decline the migration process
Completing these subtasks marks the completion of the migration process, and just like that, you can start enjoying the benefits of SharePoint Online.