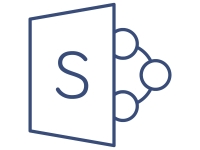 SharePoint Conference 2019
---
Did you miss the SharePoint Conference in Las Vegas last week? 
Here are some of the highlights...
One of the announcements that Microsoft outlined in this year's SharePoint Conference was for OneDrive to be able to add AutoCAD drawing files and previews of 360-degree images. Another interesting addition is a sync support capability for Windows Virtual Desktop this is Microsoft's new virtual desktop infrastructure service that's currently in a preview stage.
Microsoft announced its new landing page called Home Sites which is used for sharing news and content based on the employee's role in the organization. We are looking for a third-quarter release this year. Home Sites is a Communication Site that is designed to serve as the top portal in an organization. A Home Site is built on top of a Communication Site and is used for broader organizational communications across SharePoint Online sites. It will be possible for a Home Site to be a Hub Site which is the top navigational page in SharePoint Online intranets. The SharePoint mobile app will use the Home Sites as its new home page starting this year.
SharePoint Online document libraries are getting new feature sets from Flow and PowerApps. The flow will have new actions available including checking in and checking out documents, getting version information, granting access, and creating folders. These features should be available by the end of summer.  Soon will be able to take bulk actions on approval workflows with a new bulk approvals feature. This should be available in the next 45 days.
The SharePoint Admin Center will have the ability to show classic and modern SharePoint online management views, which will be coming very soon to our tenants. Another feature coming soon will be the ability to carry out bulk actions in the SharePoint Admin Center. Bulk actions will include updating the sites sharing configuration, performing hub site associations, deleting sites.
Microsoft Stream will be getting a new web part that will allow for all of the Stream options that lets users link to all Stream videos. We are also hearing that there will be the ability for administrators to disable people detection processing across all videos in Stream as well.